HOME
Contact
Links
Sources
Logbook

AIRCREW
Troup
Naylor
Herrick
Hewson

TACTICS
Training
Blenheim
Weapons
Formations
Tasks

MISSIONS
Scharnhorst
St Nazaire
Brest
Schiff 24
UJ 126
Condorcet
Sgt Charles Naylor was born in 1914 and lived at 100 Danethorpe Vale, Sherwood, Nottingham NG5, with his wife Sylvia Alice Marguerite Naylor. The couple had a son, also called Charles, who was born in 1938.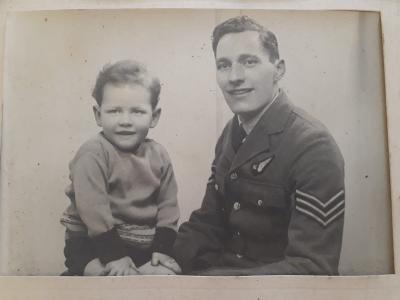 Sgt Charles Naylor had joined CEGH's crew at a late stage at the Operational Training Unit at Andover. The pilot with whom he had originally flown had badly injured his hand on a propellor so Sgt Naylor was transferred to CEGH's crew after the original wireless-operator/air gunner had been struggling to cope with the training and was eventually taken sick. Naylor had already gained a significant amount of operational experience and was a tall man who apparentlysqueezed into the Blenheim turret with difficulty.
Sgt Naylor is commemorated on the War Memorial in Cinderhill Christ Church, Nottingham, by a wooden plaque, a memorial book, and an altar rail. His name is also recorded on the Runnymede Memorial.
He left a widow and a 3 year old son, sadly mirroring the fate of his own father (also called Charles) had been killed in France on 28 April 1917 serving with the Sherwood Forresters near Bethune when Sgt Naylor was also just 3 years old.
With thanks to Sgt Naylor's Grandson, Andrew Charles Naylor, for providing family photos.



THIS ALTAR RAIL WAS PLACED HERE
IN THANKFUL REMEMBRANCE OF ALL WHO,
FROM THIS CHURCH AND PARISH, GAVE
THEIR LIVES FOR THEIR COUNTRY IN THE
SECOND WORLD WAR 1939 - 1945.
THEIR NAMES ARE RECORDED WITH
GRATITUDE AND LOVE IN THE BOOK OF
REMEMBRANCE WHICH LIES WITHIN
THIS SANCTUARY.
DEDICATED BY THE RT. REVD. BISHOP J.R. WELLER M.A.
ON
THE 6TH. JANUARY IN THE YEAR 1949
(Pictures and plaque text with acknowlegement to Southwell and Nottingham DAC Church History Project)