HOME
Contact
Links
Sources
Logbook

AIRCREW
Troup
Naylor
Herrick
Hewson

TACTICS
Training
Blenheim
Weapons
Formations
Tasks

MISSIONS
Scharnhorst
St Nazaire
Brest
Schiff 24
UJ 126
Condorcet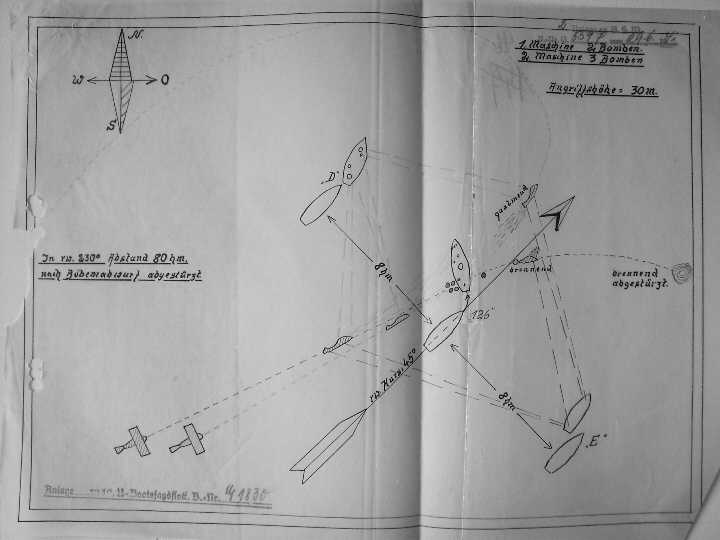 The Original German Sketch of the Engagement between UJ 126 and CEG-H.
This sketch map was made by the crew of UJ 126 as part of their combat report on the attack by the two Blenheims It shows the original formation of the three ships, with UJ 126 in the centre steering a course of Northeast, and UJ D and E in a line abreast formation with a spacing of 800m. CEGH is in the leading aircraft with Herrick behind, as they attacked from astern.
After spotting the incoming aircraft, UJ 126 turns hard to port to bring her full range of armament to bear. UJ D also turns to port, in order to maintain her separation from UJ 126. CEGH's 4 250lb bombs fall a few meters short of the evading UJ126, and his Blenheim pulls up and turns to port as it passes over the ship, with one engine trailing smoke.
Herrick's aircraft is already ablaze as it crosses over UJ 126. One of his bombs falls beyond, and his aircraft crashes into the sea not far beyond
CEGH's Blenheim is observed to fly to the west for about 8km before suddenly dropping into the water and disappearing.
UJ 126 was later torpedoed and sunk in the Kattegut by HM Submarine Tigris but the stern section was recovered and rebuilt as a new vessel

The armed trawler UJ D (formerly and later called the steam trawler Rau IX) survives to this day in the German Ship Museum at Friedrichshaven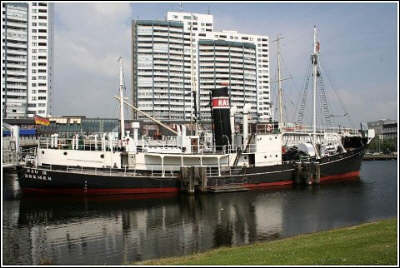 UJ D (Rau IX)