HOME
Contact
Links
Sources
Logbook

AIRCREW
Troup
Naylor
Herrick
Hewson

TACTICS
Training
Blenheim
Weapons
Formations
Tasks

MISSIONS
Scharnhorst
St Nazaire
Brest
Schiff 24
UJ 126
Condorcet


The second aircraft in the attack (PZ-O) was flown by Plt Off Dennis Herrick, with his crew of Sgt G F W Gahagan (O) and Sgt G L Wells (Wop/AG). Until 2001, little was known about their fate other than that Plt Off Herrick was buried in the Kerentrech Communal Cemetary at Lorient, France.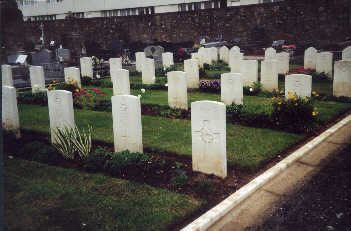 Dennis Herrick's grave at Lorient (front right). RIP.
Herrick had been pulled from the water amidst the debris of his aircraft, by the crew of the ship he had been attacking. He was alive but seriously injured, and the flotilla immediately requested permission to return to Lorient so that he could receive medical attention. Sadly, he died in hospital two days later. His two colleagues are recorded as having been killed in the crash.
"Brennend abgesturzt" - the dramatic portrayal of the crash from the sketch in UJ126's combat report.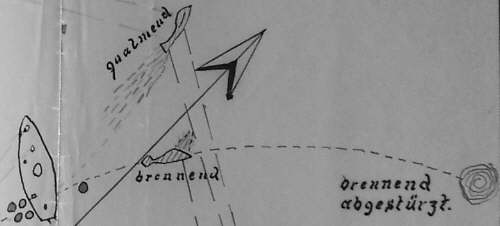 Dennis Herrick had previously been awarded the George Medal for pulling a crewmember out of the burning wreckage of an aircraft that had crashed at Taieri.with a live bomb still on board.
Two of his four brothers and his cousin were also killed whilst flying for the RAF.